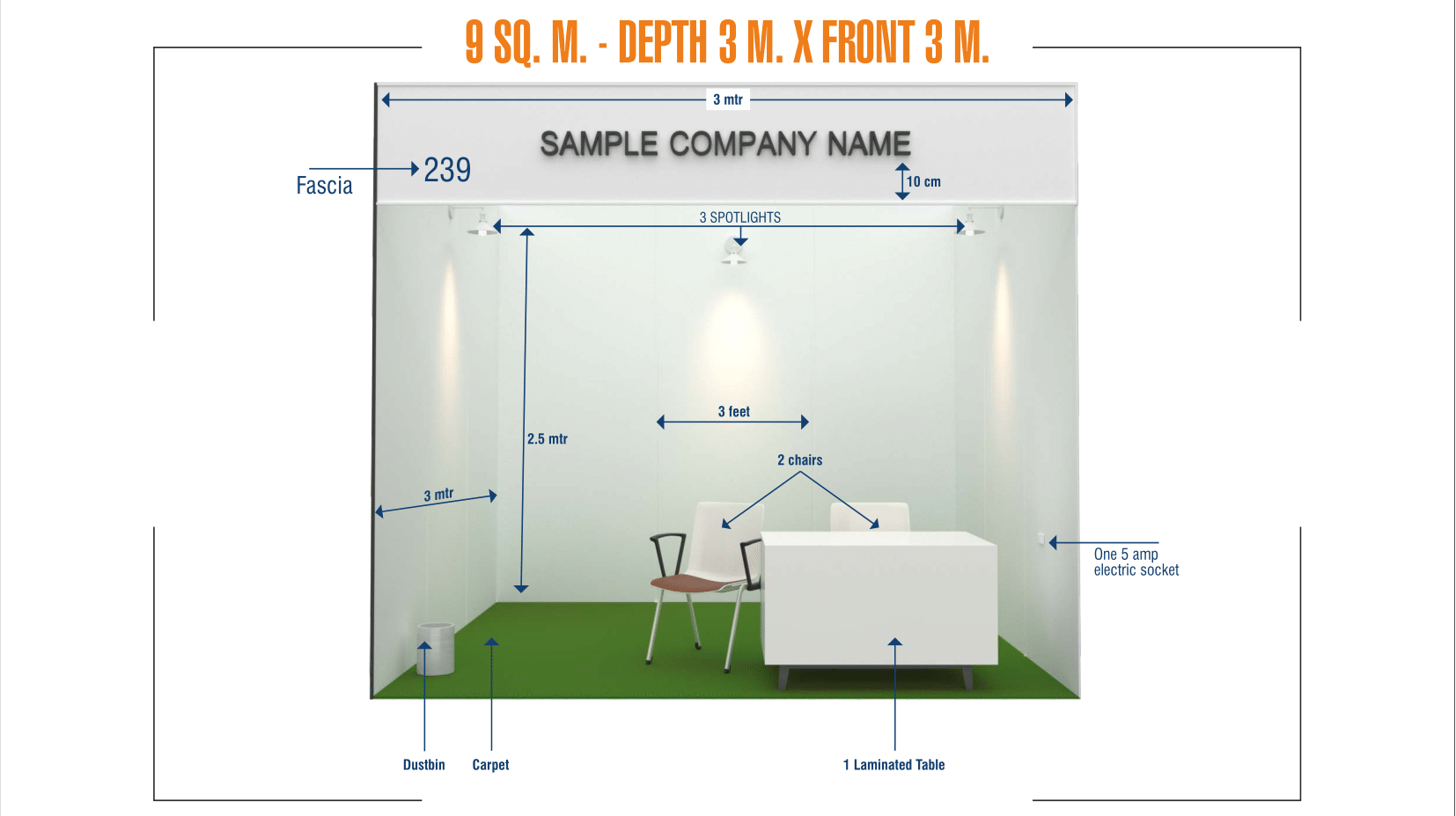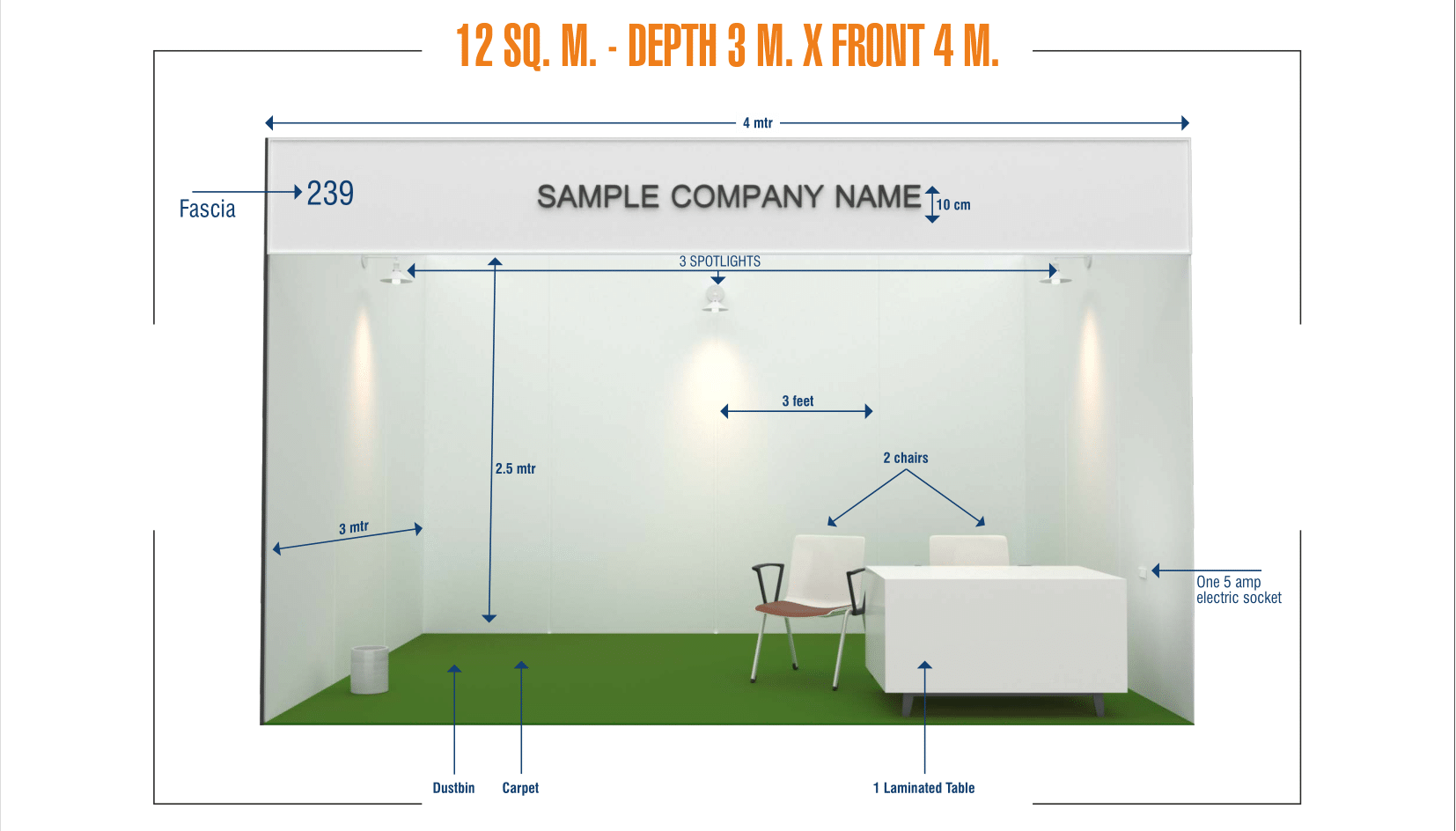 SHELL SCHEME BOOTH - PLANNING & FACILITIES GUIDE
SHELL SCHEME ENTITLEMENTS:
Pre-fabricated stall with up to 3 side walls in octonorm like system with white laminated panels 2.5 m. high and 3 m. wide.
Fascia panel with Exhibitor name and stand number in uniform lettering of 10 cm height.
Unless otherwise specified, corner stalls usually have two sides open.
Electricity for the number of spotlights and 5A Plug Points included in the shell scheme package.
One car parking pass per Exhibitor.
Area (sq. m.)
Table
Chairs
Spot Lights
5A Plug Points
Waste Basket
Carpet
Invitation Cards
Exhibitor Badges
Name Fascia
Additional Furniture
9 to 16
1
2
3
1
1
As Per Area
250
3
Max. 24 Character One Side
Available with extra charges
18 to 25
2
4
6
2
1
250
6
27 to 35
3
6
9
3
1
250
9
36 or 36+
4
8
12
4
1
250
12
Note: No rebate will be allowed to the Exhibitor if any item under Shell Scheme is not availed by the Exhibitor.
Participants opting for BARE SPACE will not avail any of the Shell Scheme Facilities mentioned above except 250 invitation cards and exhibitor badges commensurate to their area booked. They will be responsible for the design, construction and furnishing of their stall and will be charged extra for electricity.
EXHIBITOR BADGES
Additional Exhibitor Badges are available at Rs. 500 extra per badge.
ADDITIONAL REQUIREMENTS
Refer to Requisition Forms in Exhibitor Manual for additional requirements at extra charge.
EXHIBITOR NAME ON FASCIA
The Exhibitor name on fascia is in uniform lettering of 10 cm. height and can be of max.24 characters including spaces. It will be displayed on a 3 m. fascia in case of stands with 2 or 3 sides open.
All stalls under Shell Scheme will be built by the official stand building contractors and all the stands will be built with standard octanorm system. The Posters to be put up on the Panels need to account for the connecting rods between the panels and need to be about 2 inches shorter than 3 m. in width.
Unless specifically advised, corner stalls will have two sides open
No structure should exceed 8.125 ft. in height. Special prior permission from the Organizer for any display higher than 8.125 ft. should be taken. No part of the exhibit should project out of the stand area and nothing should be placed outside the stand. Digging in the floor/ground is prohibited.
Excess material of stand design will be allowed to be carried out after the stall design with a Self-declaration on company's letterhead along with Exit form.
 All items supplied under Shell Scheme package and additional items supplied by our official contractors are only on hire basis and the Exhibitors are required to hand them over back to the contractors at the end of Exhibition in good order and condition. Any damage or loss of these items will have to be compensated for by the Exhibitor to the contractors.
Painting, wall-papering, nailing/ drilling on wall panels supplied under the Shell Scheme is strictly prohibited. A penalty of Rs. 5000/- will be levied per panel for violation of this rule
Drilling, grouting on the floor welding or any support of the semi constructed structure is strictly prohibited. Anyone found guilty will be charged a penalty of Rs. 50,000/-.
Venue
Helipad Exhibition Centre, Near Jilla Panchayat, Sector 17, Gandhinagar, Gujarat 382016, INDIA
Visit our appointment request page to find a time that is convenient for you.